Hong Kong Jockey Club Chief Executive Officer Winfried Engelbrecht-Bresges delivered the keynote address, "The Journey to World-Class Racing and Success via Customer Centricity," at the 64th annual Round Table Conference on Matters Pertaining to Racing in Saratoga Springs, New York on Sunday, 14 August. Mr. Engelbrecht-Bresges outlined the history of the Club before explaining the transformative steps taken in the last decade to solidify Hong Kong amongst the world's elite racing jurisdictions.
"The Club decided in our 10-year plan, beginning in 1999, that we would position Hong Kong as a global centre of excellence in racing. We wanted to provide our customers with the highest integrity in our racing product, unlimited access to information and definitely wanted to have prohibited substances-free racing to ensure a level playing field for every participating horse," said Mr. Engelbrecht-Bresges to the more than 250 attendees.
Maintaining the confidence of customers is a primary necessity Mr. Engelbrecht Bresges noted, addressing the Club's commitment through elements of racing control, including the world-class Racing Laboratory and clinical veterinarians, who are Club employees, while also maintaining performance criteria for participants and developing new personnel through the Club's Racing Development Board. "Integrity is key in our vision and is a necessity for any sport, especially when it is combined with betting."
"We believe that prohibited substances-free racing is essential for public support of our sport, customer confidence, ensuring fairness and integrity in creating a level playing field and also when it comes to the selection of horses for breeding. In Hong Kong, we have adopted best practices in terms of comprehensive in-competition testing. Every horse requires a medication record of all the treatments it has ever received and we test every horse the morning of a race, along with post-race testing. We feel strongly that these best practices should be adopted by all leading racing jurisdictions, especially for those races which determine the best horses in the world and their rankings.
"Going forward we will invest even more into research to develop our capabilities to have even more power tools to detect attempts to manipulate races. We firmly believe that the philosophy of prohibited substances-free racing, and applying best practices to ensure implementation, should be adopted by all leading racing jurisdictions, especially in the United States with its marvelous thoroughbred history and wonderful blood lines."
Mr. Engelbrecht-Bresges shared details of the Club's HK$6 billion Racecourse Master Plan, now in its third phase having commenced in 2009, redefining its customer-centric segmentation model, which included substantial upgrades for Owners, Members and public venues, as well as the Club's investment in technology, notably through the mobile experience, aimed at younger customer segments.
"We undertook intensive study and research to assess how we could revitalize racing and what it would take to attract customers, identifying nine different segments and developing differentiated offerings to fit their lifestyles. All these findings became the basis for a significant multi-year investment programme. By looking at our turnover growth, the Club's journey to revitalize through world-class racing and customer centricity has produced really promising results."
The Jockey Club, host of the conference, maintains The American Stud Book for the thoroughbred breed in the United States, Canada and Puerto Rico. Based in New York, it has created and operated various commercial subsidiaries aimed at generating profits to support industry initiatives.
"In the interest of the sport globally, I urge all stakeholders in the U.S. to unite and come to implement what is necessary to safeguard our sport. The thought leadership provided by the U.S. Jockey Club is essential and I hope other key stakeholders in the U.S. follow the lead of provided by the Club."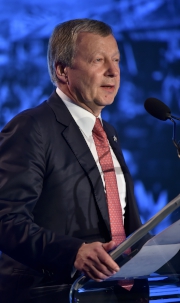 Photo 1:
Hong Kong Jockey Club Chief Executive Officer Winfried Engelbrecht-Bresges delivers his keynote address at the 64th annual Round Table Conference on Matters Pertaining to Racing in Saratoga Springs, New York on Sunday. (Credit: Skip Dickstein / The Jockey Club)