By David Morgan

Trainer Tony Millard's plan has been months in the making and the South African handler hopes it will all come together when Super Jockey takes his place in the inaugural KOR G1 Korea Sprint (1200m) at Seoul Racecourse on Sunday (11 September).

Millard's charge will become the first Hong Kong–trained horse to compete in Korea and the handler is hopeful that the initial edition of the Korea Autumn Racing Carnival will be remembered for a first Hong Kong winner.

"We had planned the whole thing three months ago, and while it's one thing planning and another pulling it off, everything has been smooth so far," said the handler.

Super Jockey continued his preparations into Sunday's groundbreaking race early this morning (Friday, 9 September). Beverly Millard, his regular work rider, partnered the eight-year-old as he trotted in the ring and then cantered a little more than a lap of Let's Run Park's main track.

"He has done well," Millard continued. "He has travelled quite a bit - so he has settled in OK. His weight is good – that's a good indicator – I'm happy with him. He is a seasoned traveller and a secure type – he doesn't fret much, so it was all pretty smooth. He is around his racing weight, he hasn't lost any."

Despite this being Super Jockey's third overseas assignment following two trips to compete in Dubai, the bay is relatively lightly-campaigned, having raced only 21 times in his Hong Kong career to date across four seasons.

"He is a relatively un-burnt horse, I have always been conservative with him," said Millard. "I don't have an abundance of good horses - I have protected him, I haven't raced him a great deal and I think it has kept him young."

Super Jockey's second-place effort in the 2015 edition of Meydan's G1 Dubai Golden Shaheen (1200m) is among the best form of any of the 16 contenders for the Korea Sprint. Allied to that, the Sandtrap gelding has what on paper appears to be a good starting berth, having secured gate two at yesterday's barrier draw, but one major unknown is Seoul's sand surface.

"It's very heavy, it seems to be endless," said Millard after scrutinising the track up close for the first time this morning. "It's deep, but it is what it is and we have to deal with it. That's what they race on so we have to run on it, but so does everyone else.

"Hong Kong-type horses are used to the lighter surface and they do go very hard here, but we have a nice draw."

Former US sprint star Wild Dude, a dual G1 winner in California and now with trainer Mick Halford in Ireland, will break from gate 10, one spot outside of Singapore's Super Winner, while another big player, Japan's Grape Brandy, winner of the 2013 G1 February Stakes, will start from the 12 berth.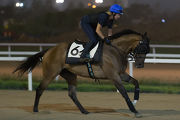 Photo 1:
Super Jockey canters this morning with Beverly Millard on board in preparation for the Korea Sprint.