By David Morgan
With three wins in the first four meetings of the current Hong Kong season, Nash Rawiller has been in simmering form and tonight (21 September) at Happy Valley the Australian ace hit boiling point with a four-timer that encapsulated the tenacity, class and rugged determination that are the former Sydney champion's trademarks.
"Nash is a totally different rider this season; it's confidence – that's all it is – it works for jockeys and it works for trainers," David Ferraris said after Rawiller had delivered the trainer his first win of the campaign.
That elbow-pumping victory, atop 6.7 chance Massive Millennium (123lb) in race three, the Class 4 Lam Tin Handicap (1200m), thwarted current championship leader Zac Purton who was forced to settle for a short-head second aboard the evening's skinniest favourite, the 1.8 jolly, Victory Marvel (132lb).
"Nash rode him beautifully – he got a nice run on the fence," said Ferraris, who quipped, "we've now got a 100 percent record together this season!"
Rawiller arrived in Hong Kong two years ago with three Sydney Premierships and a bagful of Group 1 wins. Past glories often count for little in Hong Kong's unforgiving crucible, though, and the hoop was relegated to mid-tier through his first two seasons, notching 59 wins at a rate of a shade over 7%.
Things seem to have changed this season. The hard work of the past two campaigns and an early return from his summer break this term, have earned Rawiller respect and, most crucially, wider support, particularly from the contingent of local Chinese trainers at Sha Tin. That was exemplified tonight: Rawiller brought up his double on the Ricky Yiu-trained Wonderful Journey, clinched his first Hong Kong-side treble on Danny Shum's Caga Force and closed out the four-timer astride the same trainer's Inventor in the last, the Class 3 Kwun Tong Handicap (1650m).
"It's a big night," Rawiller said. "Tonight was the first time I'd ridden three winners in Hong Kong and then to come out in the last and ride four is hard to believe, really.
"Of course, behind the gates I knew I was a chance, being on a good horse (Inventor), but in the run he never travelled, I felt under pressure the whole race and to his credit he dug really deep in the straight and was able to reel them in. You could see by the adulation on the line it meant a fair bit to me."
Rawiller has previously credited his teenage son, Campbell, with his upturn in form and did so again tonight.
"I've worked hard of a morning and everyone knows the young bloke, Campbell, has pushed me a bit harder to sort of try and get more clients and get more support and it's really starting to pay off now and I thank him a lot for that," he said.
"I'm starting to get more confidence, too; I'm starting to believe more in my riding as I always did at home. I've come here and it's not an easy place to settle into, it's tough, and I'm just glad I've stuck it out; I've had good support from my family and thankfully now I'm starting to get a lot better support from owners and trainers."
Rawiller's tally for the season so far stands at seven, clear second in the standings behind Purton, and, with confidence restored his sights are now set on Hong Kong's bigger prizes.
"Tonight means a lot to me but I worked very hard at home before I came to Hong Kong to be the leading Group One jockey in Australia and it took a long time to get the support to do that, but I did for five years in a row. Now I'd like to get more recognition in bigger races as they come along," he said.
Rawiller's success on Wonderful Journey in race five, the Class 4 Lam Tin Handicap (1200m), formed the middle leg of a treble for Yiu, the trainer having saddled Bo Duke to win the opener at odds of 76/1. Flying Tourbillon in race six completed the trio for the handler who went into the meeting with a blank in the season's win column.
"It's good to get those first wins," he said. "All of mine had the advantage of already having a run at Sha Tin before tonight, so the race they had before brought them on and tonight you can see the benefit of that – they were fitter and sharper."
Despite failing to peg back Rawiller aboard Victory Marvel early on the card, Purton earned the distinction of being the first jockey to hit double figures for the campaign when driving the Dennis Yip-trained Good Choice to a last-gasp nose verdict in race four, the Class 4 Ngau Tau Kok Handicap (1650m).
"When I hit the line I thought I'd won by a half-head and then when I've come back I've seen the camera was on the other horse and I've thought maybe I got it wrong," he said. "He finished off really well in his trial and he's done the same again tonight. That was the key – that's what won him the race."
Hong Kong racing continues at Sha Tin on Sunday, 25 September.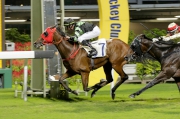 Photo 1:
Nash Rawiller seals his first Hong Kong four-timer atop Inventor at Happy Valley tonight.