By Steve Moran
Dicton, the horse who officially represents France in Sunday's HK$20 million G1 Audemars Piguet QEII Cup (2000m) but who has a diverse background, was certainly the centre of attention this morning at Sha Tin during the international track work time slot.
That, of course, was chiefly as he was the only international runner to emerge from quarantine. However, it would be unwise to condemn him to that novelty status alone given the strength of his form credential from last year's G1 Prix du Jockey Club (French Derby).
And the waiting media was certainly curious to lay eyes on the four-year-old son of Lawman who was bred in England, is owned by a Hong Kong-based Singaporean and trained by an Italian now based in France.
There wasn't much to see in terms of an exercise stress test. The colt simply trotted two laps of the all-weather track after initially being reluctant to cross the bitumen and metal grates which separate the turf course and the all-weather track.
Nonetheless, the horse looked well, under saddle and regular rider Aude Duporte. Bright in the coat and powerful through the shoulder. Laura Dell'Elce, assistant to trainer Gianluca Bietolini, was pleased with what she saw and how the horse has settled in.
"He's ready," she said, "and won't need a great deal of work here. He just needed to stretch his legs this morning and he will probably have just the one gallop between now and Sunday's race."
Dicton, a six-time winner who this week races outside France for the first time, has travelled and acclimatised well according to Dell'Elce. "The travel was no problem for him. He was calm and relaxed throughout the flight and he's settled in well here where the facilities are so good.
"He lost 18 kilograms through the flight which is in the normal range and I think the horse is very well in himself," she said.
Dicton, who was secured by Hong Kong's Sino Group chairman Robert Ng from a two-year-old claiming race at Saint-Cloud in October 2015, recorded his career best when third behind Almanzor and Zarak in last June's G1 French Derby.
The winner Almanzor, of course, went on to win both the G1 Irish and British Champion Stakes - beating the G1 Prix de l'Arc de Triomphe winner Found on each occasion - and Almanzor finished 2016 as the year's highest rated European racehorse. The Derby runner-up Zarak went on to win the G3 Dubai Millennium Stakes at Meydan this year.
A repeat of that Derby performance would likely have Dicton competitive on Sunday. "I'm not sure about his chance but it is a great experience to be here and we are certainly very enthusiastic about seeing what he can do," Dell'Elce said.
Trainer Bietolini arrives in Hong Kong on Thursday while four times French champion jockey Olivier Peslier, who rides Dicton and is no stranger to big-race success in Hong Kong.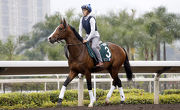 Photo 1:
Dicton exercises on the Sha Tin all-weather track this morning.