By Steve Moran
Japan's Neorealism, with the scalp of the all-conquering Maurice on his belt, brings the international 'X' factor plus an element of the nation's renowned technological expertise to Sunday's HK$20 million G1 Audemars Piguet Queen Elizabeth II Cup (2000m).
Plus he has the 'magic' factor with Joao Moreira booked to ride.
Neorealism, last start winner of the G2 Nakayama Kinen, has looked well in cantering work over the past two mornings and attracted more than the usual attention as track rider Shinjiro Kaneko's goggles were adorned with what appeared to be a camera like device.
In fact it was more than just a camera but also a monitor. Manufactured by Horsecall Japan it is sold as an aid to training and displays heart rate and speed. Adam Harrigan, consultant and interpreter for trainer Noriyuki Hori, explained.
"The monitor, which the rider can see, displays the horse's heart rate in real time and the track work times for each 200 metres split. It's new Japanese technology and while Hori is not the only trainer to use it, he's certainly been among the first," Harrigan said.
"It's valuable, obviously, for the rider to know exactly how fast he's travelling and to have an indicator of how much the horse is exerting himself and, of course, Hori is able to download and evaluate the data from home in Japan."
The heart rate data is recorded via pads inserted in the girth strap while the camera attachment is fitted with a GPS and the data is displayed in a small monitor attached to the rider's eyewear.
"I can see the data as I am riding the horse and this equipment is now used with all the horses in the Hori stable," said Kaneko.
Similar technology was used with champion Japanese horse Orfevre who was runner-up in the Prix de l'Arc de Triomphe in 2012 and 2013.
Harrigan said the device is becoming an important training tool. "In a sense it's an extension of measuring lactates and heart rates via horses working on treadmills which has been commonplace for some time. This is just more sophisticated and allows the trainer to tailor work specifically to individual horses based on the heart rate data," he explained.
Kim Kelly, the Hong Kong Jockey Club's Chief Stipendiary Steward, said: "The Club approved the use of the goggles as we knew Neorealism would largely work on its own, and so that we could obtain first-hand knowledge of how the equipment operated and the value of the data the goggles provided to the rider.
"We will assess all of the relevant factors, including the safety of riders and horses when more than one horse is working, before deciding whether the piece of equipment is appropriate to be used on a wider basis during trackwork."
Neorealism ventured to Hong Kong last December and finished three and a half lengths lengths ninth behind Beauty Only in the G1 Hong Kong Mile. On that occasion, he shared a fast 47.02s first 800 metres pace and faded, unsurprisingly, in a race trifectaed by three who ran on from beyond midfield.
Harrigan said the stable believes that first-time experience would serve the horse well. "He's not the most laid back horse but he was quite relaxed this morning and I think generally a lot more settled here the second time around," he said.
Neorealism's make-all defeat of former stablemate Maurice in last August's G2 Sapporo Kinen (2000m) was his first at Group level and a sound pointer to his prospects this weekend.
Aside from the Hong Kong Mile aberration, he has since maintained his form at a high level. He was, after the Sapporo Kinen, beaten less than a length in the G1 Mile Championship from barrier 15 and his first 2017 run saw him produce a strong on-pace win in the G2 Nakayama Kinen (1800m) with G1 Dubai Turf (1800m) winners Vivlos & Real Steel astern. Eishin Preston ran in that Nakayama race before his 2002 subsequent APQEII Cup success in 2002.
Neorealism's ability to race on-speed looks a major plus in a race which is, at least on paper, devoid of early pressure.
The racing world watched in awe through 2015 and 2016 as Japan's powerhouse Maurice muscled his way to six commanding Group 1 victories including three in Hong Kong and few would underestimate his trainer who returns with Neorealism - one of only two horses to have beaten Maurice in his 11 2015/16 starts; after his three-year-old season and transfer to Hori's stable.
Maurice, the son of Screen Hero who is now at stud, looked nigh on unbeatable on occasions. He was, indeed, unbeaten in Hong Kong where he claimed the 2015 G1 Hong Kong Mile, the 2016 G1 Hong Kong Cup and the G1 Champions Mile at this time last year.
And Neorealism, like Maurice, has been something of a late bloomer and progressed well enough under Hori's care to be rated a major player on Sunday.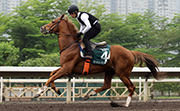 Photo 1:
Neorealism exercises on the all-weather track at Sha Tin this morning.