By Andrew Hawkins
In Sunday's (30 April) HK$20 million G1 Audemars Piguet Queen Elizabeth II Cup, The United States will fly the red, white and blue one last time before he takes up stud duties. But it will not be the Star-Spangled Banner adorning the flagpole; instead, the strapping chestnut – who has never stepped foot on American soil – will represent the Union Jack and the Southern Cross of his adopted home Australia, where he has raced since he was purchased out of Coolmore's Irish base in 2013.
"We love him, he's been a grand horse for us. He's a ripper," said part-owner Nick Williams, speaking from Melbourne. "We had initially planned to bring The United States to the December international meeting but he had an interrupted preparation which just didn't make it ideal for him, so we put a line through that. We thought though he was the right sort of horse, he travels very well, so we decided that this will be his final run before he retires to stud."
The United States, a Coolmore homebred by super stallion Galileo out of G2-winning mare Beauty Is Truth, has emerged as one of Australia's top rank stalwarts in recent years. Beginning his career with Aidan O'Brien, he won three races at the Curragh, Tipperary and Leopardstown, the last being the G3 Enterprise Stakes (2000m), which attracted the attention of Team Williams – primarily, Nick's father Lloyd.
"He was part of a package of horses we bought from Coolmore at the time, and he was bought for the 2000-metre to 3200-metre races down here," Williams said.
Campaigned as a Cup horse in 2015, The United States won the G2 Moonee Valley Cup (2500m) – beating Prince Of Penzance – before finishing 14th to that same horse in the big dance itself, the G1 Melbourne Cup (3200m).
"As he's matured, he's proven more adept at a mile and a quarter rather than the further trips," Williams said. "He's an interesting horse in that he's at the top level of Australian horses, if you take Winx out, certainly among the middle-distance horses. I personally think if you ran horses like (Caulfield Cup winner) Jameka, (Turnbull Stakes winner) Hartnell and The United States at their best, if you ran them against each other 10 times, they'd all get a shot at it and they'd probably trade wins."
The flashy galloper has raced 12 times in the 18 months since that Melbourne Cup for two wins, taking the G1 Ranvet Stakes (2000m) at Rosehill in March 2016 and the G2 Crystal Mile (1600m) at Moonee Valley in October last year.
"He is not a dominant-type Group 1 horse who can afford things to go wrong and still win – a horse that is three-quarters to a length better than his rivals. He needs things to go his way in big races, and if they do, he performs very well," he said.
"If you watched all his replays in Australia, I think there are four or five other races that he didn't win but in which you'd say he was a moral beaten. It's extraordinary, some of them were pilot error, some of them were bad luck, he's had this and that."

This campaign, The United States has been around the mark without winning; the pick being his third in the G1 Ranvet Stakes (2000m) to Our Ivanhowe, preceding a herculean task against champion mare Winx in the G1 Queen Elizabeth Stakes (2000m). He finished fourth, six and a half lengths behind Chris Waller's star, but rider Damien Oliver did fire in an unsuccessful objection post-race.
"Damien came back last time and he was furious," said Williams. "Damien said, 'This sounds ridiculous, but I was travelling like the winner. I know Winx was sitting there behind me, and obviously I wasn't going to beat her, but nothing else was going to beat me in that race. I got absolutely knocked over and it took a furlong for him to pick himself back up.'
"Looking at it, he probably lost three lengths and he finished a length and a quarter behind Hartnell. But that's racing, these things happen: unfortunately, in racing you have more disappointments than good times, but that's what makes the good times so good."

Sunday's APQEII Cup will be the seven-year-old's career finale, with stud duties beckoning in the second half of the year. No Australian-trained horse has ever won the HK$20 million feature, although David Hayes-trained Criterion did finish third to Blazing Speed in 2015.
"It seemed like Hong Kong would be suitable for him," he said. "Apart from the fact that it's a plane trip and not a float, it's pretty similar to taking them up to Sydney in that it's a 10 to 12 hour trip door-to-door. Really, it's a bit of a throw at the stumps, it is tough to grasp the Hong Kong form as it is a closed shop by and large, but we think he's a pretty good horse and Winx form looks pretty good for this race. Stud plans are set in stone and they will be announced in due course."
New frontier for most successful Melbourne Cup owner Lloyd Williams
The legend of Williams' father Lloyd, who heads up the Hudson Conway Racing banner under which The United States belongs, is part of Australian racing folklore. The prominent Melbourne businessman and property developer has owned many leading horses, such as dual Derby winner and later leading sprinter Mahogany, popular stayer Zipping, Caulfield Cup hero Fawkner and unbeaten Reset, and it is with stayers that the 76-year-old has proven most adept.
The founder of Melbourne's Crown Casino is the most successful owner in the history the Melbourne Cup, having won the famous 'Loving Cup' trophy on five occasions, most recently with Almandin last November. Before that came Just A Dash (1981), What A Nuisance (1985), Efficient (2007) and Green Moon (2012).
"My father had his first winner in 1967 and since that time he's owned I think about 3,500 horses," said Nick Williams. "Since the mid-1980s, those horses have been trained in a private training situation, with various people as our private trainers – currently, Robert Hickmott is in charge. Over the last decade or so, we have been based at Mount Macedon, north of Melbourne – our property Macedon Lodge is a 300-acre state-of-the-art world-class training facility and since we've been there, we've had almost 20 G1 winners, including three Melbourne Cups.
"We breed, we buy locally and we buy overseas horses with a business aim of winning as many of the middle-distance and staying Group 1 races in the southern part of the world as we can."
The United States represents a new undertaking for Hudson Conway Racing. While the Team Williams colours, the famous navy blue and white, have been seen overseas recently, most notably atop Aidan O'Brien-trained Order Of St George when he finished third in the G1 Prix de l'Arc de Triomphe (2400m) at Chantilly in October, this is the first time they will be seen on a Hong Kong racetrack and the first time a horse will be campaigned internationally out of the Macedon Lodge base.
Hong Kong-based Brett Prebble will jump aboard The United States for the first time on Sunday, but has a long and storied relationship with the Williams family. Most notably, he was in the saddle for Green Moon's Melbourne Cup victory in 2012.
"Brett was apprenticed to our private trainer John Meagher in the 1980s, so the relationship is pretty long," Williams said. "Obviously it was fantastic for him to ride a Melbourne Cup winner for us. He also won the G1 Goodwood in Adelaide for us a number of years ago on a horse called Keeper, who has made a name for himself at stud in New Zealand. We've got a great relationship with Brett, we think he's one of the best jockeys in the world, and we're very happy to be having him aboard in what is now his backyard."
If The United States were to provide Australia with a historic first APQEII Cup win on Sunday, it would not be the first link to the race for Team Williams. That distinction belongs to 2005 victor Vengeance Of Rain, who raced three times in the Williams ownership when named Subscribe before establishing his legacy as a Hong Kong legend.
"To watch him win all those races in Hong Kong, including the QEII, was something," he said. "David Ferraris did a great job with him, but what really made it special was when he went to Dubai and won the Sheema Classic. I think at that point, he was the highest-rated horse in the world. We've sold a large number of horses to Hong Kong over the years, there's been a fair few that have been quite successful too!
"We're really excited to come," Williams added. "I came up there about four years ago for the December international meeting to look at the facilities, because at that time we were looking at bringing Fawkner for the Hong Kong Mile the following year but it didn't pan out, unfortunately. It's nice to hopefully have a runner in such a prestigious race in such a great place."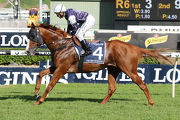 Photo 1:
The United States contested the Queen Elizabeth Stakes at Randwick last start.